Sounding by Jennifer A. McGowan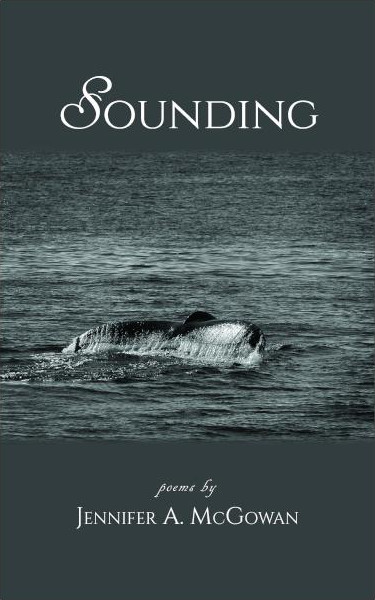 Excitement! Sales are open on Sounding, my poetry chapbook from Finishing Line Press!
You can order Sounding directly from them for $12 (approx. £7.34) plus shipping. Domestic (US) shipping is $2.99; international shipping in $10.99. Contact Jen for more details.
Sample poem
And here's one of the poems. This one has been published in a few places, but there are also poems in the collection which have never been seen in print!
FOR VITA, MAYBE
I see you leaning against a fence post,
hard and practical, glinting in the light.
You planted the post last spring;
obedient to your will, it grew
and chained this hard soil to your heart, bound it in.
Now when the wind blows your head lifts,
searching the sounds for hidden words,
poems of the old earth and this,
your new home.
Reviews
Joan Seliger Sidney, American poet and Pushcart nominee
Sounding heralds the next instalment of Jennifer McGowan's extraordinary poetic talents. In this coherent collection linking generations, she remains unafraid to confront and examine loss without becoming pessimistic. I love how she explores her opening poem's subject, a "he" with aphasia, presumably a poet, the ease of her language and imagery: "the wind collects lost syllables,/tosses poems out of his reach." McGowan seems at home everywhere: in nature, in mythology, and in "the world of nine-o'clock,/ where people rush and bump shoulders/ in clumsy echoes of a lover's touch."
Michael Swan, British poet and award-winner
Poets who can link the natural world to human experience are two a penny; those who can do it well are rare. Jennifer McGowan observes - really observes - the rhythms, predictabilities and unpredictabilities of both domains, drawing on her vision of each to illuminate the other. This makes for poetry that is grounded in metaphor, and McGowan's metaphor is always original, always striking and never gratuitous. She combines richness of texture with economy, a clear sense of shape, and an attractive directness which comes to the fore in some perfectly-crafted closing lines. Jennifer McGowan is a fine poet, and Sounding contains some of her finest work to date.
Noel Duffy, award-winning Irish poet
Jennifer A. McGowan's finely realised poems move between love and loss, struggle and defiance, from delicately observed scenes of nature to harsh cosmopolitan realities. Many pieces chart the cycles of relationships, from the joy of beginnings to the complication of domestic life, to the loss of endings. Yet all demonstrate a deftness of touch and a sense of resilience, nature a constant reassurance as it is rendered both delicately and precisely; sometimes harsh, but always hope-giving. These poems are beautifully constructed as well as beautifully felt. Sounding shows McGowan to be a poet of both a great acuteness of observation and feeling, as well as one of a indefatigable toughness of spirit.
David Olsen said:
In Sounding, Jennifer A. McGowan strikes a graceful balance between clarity and mystery. This sharp, yet tender, collection pulsates with startling imagery and undeniable urgency. These accomplished poems confidently combine a sense of freedom and precise control. This mature, fully realized collection invites repeated readings that reveal deepening resonances.
Paul Surman wrote:
From the lost and found of memory and love, from New England to England, to Prague, Jennifer McGowan's poems range with the same sure-footed skill over the corporeal and the intangible, the real and the imagined, the everyday and the fairy-story, with a tenderness and exuberance that never flags, and always leaves you wanting much more.