About Jennifer A. McGowan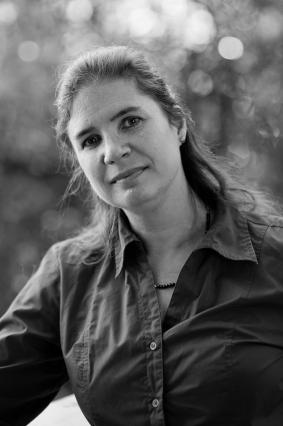 Jennifer A. McGowan, one of Oxford's Back Room Poets, graduated from Princeton with honours, and from the University of Wales for her M.A. and Ph.D. Despite being certified as disabled at age 16 with Ehlers-Danlos Syndrome, she went on to become a semi-professional mime and performed in five countries. She has published poetry and prose in various magazines and anthologies, and has both written and recorded songs on several (small, but perfectly formed) labels. She loves teaching and has taught both under- and postgraduates at several universities. She is a British citizen.
In addition to the Back Room Poets, she is also one of the Jericho Poets, the Oxford Stanza poets, and the White Horse Poets. She is also a member of the Poetry Society and the Second Light Network.
Jennifer's poetry ranges from the personal to the mythological, but always remains accessible. Here is what people are saying about her:
Gwilly wrote:
Jennifer A. McGowan's engaging animated readings are a joy to hear. There is something very relaxing about hearing poetry from a poet who 'performs'. She ended the first half of the programme with strident, humorous and accessible material that set us laughing and wanting more. But Jennifer interleaves her pieces with deep and thought-provoking work, too: a dedication to a local poet who believes 'nothing ever happens in Horspath' ends with "Night washes in./Poetry wails around the eaves, seeking entry."
Neil Anderson wrote:
Jennifer A. McGowan's voice filled the gallery, urging us to consider Lot's wife musing on reincarnation, and the joys of wearing odd socks. 'Commute to Kutná Hora' compared the aristocratic travellers of the past with today's tourists. 'Now in this summer swelter/our skins exude/a slime of sweat', concluding, 'The doyennes, long gone, frown/seeing us for what we are/universally second class',
Praise for her book Sounding
Noel Duffy wrote:
Jennifer A. McGowan's finely realised poems move between love and loss, struggle and defiance, from delicately observed scenes of nature to harsh cosmopolitan realities. Many pieces chart the cycles of relationships, from the joy of beginnings to the complication of domestic life, to the loss of endings. Yet all demonstrate a deftness of touch and a sense of resilience, nature a constant reassurance as it is rendered both delicately and precisely; sometimes harsh, but always hope-giving. These poems are beautifully constructed as well as beautifully felt. Sounding shows McGowan to be a poet of both a great acuteness of observation and feeling, as well as one of a indefatigable toughness of spirit.
David Olsen said:
In Sounding, Jennifer A. McGowan strikes a graceful balance between clarity and mystery. This sharp, yet tender, collection pulsates with startling imagery and undeniable urgency. These accomplished poems confidently combine a sense of freedom and precise control. This mature, fully realized collection invites repeated readings that reveal deepening resonances.
Joan Seliger Sidney wrote:
Sounding heralds the next installment of Jennifer McGowan's extraordinary poetic talents. In this coherent collection linking generations, she remains unafraid to confront and examine loss without becoming pessimistic. I love how she explores her opening poem's subject, a "he" with aphasia, presumably a poet, the ease of her language and imagery: "the wind collects lost syllables,/tosses poems out of his reach."
McGowan seems at home everywhere: in nature, in mythology, and in "the world of nine-o'clock,/ where people rush and bump shoulders/ in clumsy echoes of a lover's touch."
Michael Swan wrote:
Poets who can link the natural world to human experience are two a penny; those who can do it well are rare. Jennifer McGowan observes - really observes - the rhythms, predictabilities and unpredictabilities of both domains, drawing on her vision of each to illuminate the other. This makes for poetry that is grounded in metaphor, and McGowan's metaphor is always original, always striking and never gratuitous. She combines richness of texture with economy, a clear sense of shape, and an attractive directness which comes to the fore in some perfectly-crafted closing lines. Jennifer McGowan is a fine poet, and Sounding contains some of her finest work to date.
Paul Surman wrote:
From the lost and found of memory and love, from New England to England, to Prague, Jennifer McGowan's poems range with the same sure-footed skill over the corporeal and the intangible, the real and the imagined, the everyday and the fairy-story, with a tenderness and exuberance that never flags, and always leaves you wanting much more.
From Kevin Crossley-Holland:
Bright-eyed and unblinking, Jennifer A. McGowan engages with stories, events and situations that embody lasting truths about human passion and illusion, suffering and endurance - the adventures of Odysseus, the appalling English witch-hunts, the condition of loneliness. At the heart of this shapely, significant chapbook is the tension between the divine spark and complete and utter earthiness. In one of several memorable dramatic monologues, the concubine of a divine, but pimply, dead pharaoh stares at his 'solar barque' and
...can't help wondering
if when they weigh my soul
he'll be clear-skinned and waiting,
and if he still snores.
The female viewpoint; gritty thought; wit; striking candour - an unafraid recognition of life's richness and desolation; memorable detail; all these are underpinned by Jennifer A. McGowan's graceful, subtle, quite lovely way with language.
Gray Jacobik wrote:
The bite is here, the sass, the taut lines raptly tangled in their music, the slightly arch yet scampering voice caught between rage and ecstasy: so I name Jennifer A. McGowan a true descendent of the tribe of Plath. Well, Plathish--for these lyrics, dramatic monologues and fairytales are bedecked with wit, irony, bittersweet folly and dictional-shifts jazzy enough to make a reader dance--these last all McGowan's own.
From Claribel Alegría:
I love Jennifer A. McGowan's new poems. Nostalgia runs through them, a profound nostalgia that has marked her for ever.
It also has marked us, her readers. It makes us think about the inevitability of life.
She is precise, observant and steeped in mythology. She herself is a living myth.
---
David Olsen is the author of Sailing to Atlantis, New World Elegies, and the forthcoming Unfolding Origami.
Kevin Crossley-Holland is the author of The Norse Myths, the Arthur trilogy and The Mountains of Norfolk: New and Selected Poems (2011)
Gray Jacobik is the author of Little Boy Blue, Brave Disguises, and The Surface of Last Scattering
Claribel Alegría is the author of Sorrow, Luisa in Realityland, and Ashes of Izalco, and remains one of Central America's finest and most important writers.